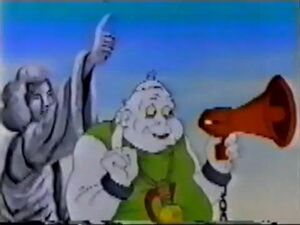 Coach Cadaver is the overall antagonist of the show. He is the athletic director of Gravedale High. As his name implies, he is a walking cadaver with a detachable brain, which he rarely puts to use. His athletes generally bully monsters who do not do sports, and Coach Cadaver joins in putting down the misfit class that Mr. Schneider teaches. Coach Cadaver is also a rabid human-hater, and is angry that Headmistress Crone hired a human on faculty. Another reason for Coach Cavader's hatred of Max Schneider is that most of the female faculty consider him revolting and ill-mannered, whereas it is shown throughout the show most of the female monster teachers have some form of mild crush on Mr. Schneider.
Ad blocker interference detected!
Wikia is a free-to-use site that makes money from advertising. We have a modified experience for viewers using ad blockers

Wikia is not accessible if you've made further modifications. Remove the custom ad blocker rule(s) and the page will load as expected.