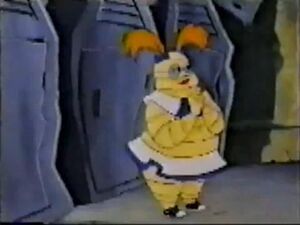 Cleofatra (voiced by Ricki Lake) - An obese and somewhat nerdy mummy in contrast to the emaciated appearance generally associated with mummies. Her name is usually abbreviated as "Cleo." Best friends with Duzer. Cleofatra has a crush on TV monster celebrity Billy Headstone who is the star of the day time soap opera "Trudy and the Beast" (which is a parody of the 1980s show Beauty and the Beast).
Ad blocker interference detected!
Wikia is a free-to-use site that makes money from advertising. We have a modified experience for viewers using ad blockers

Wikia is not accessible if you've made further modifications. Remove the custom ad blocker rule(s) and the page will load as expected.