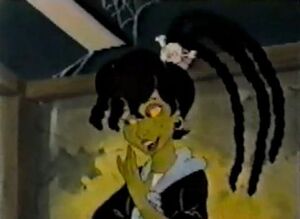 Blanche (voiced by Shari Belafonte) - A zombie Southern belle who loves to shop, making her a literal "mall zombie." Her name and personality comprise a pun on "blanche" as a synonym for "turn pale" and Blanche DuBois (in the episode "Monster Gumbo", she comments that she has "always depended on the kindness of monsters" parodying a line from A Streetcar Named Desire). She frequently dates J.P. Ghastly the III, although it is implied she is drawn at least as much to his wealth as to his other traits. Blanche is a shopaholic who is frequently teased by her classmates about how many credit cards she's maxed out. She is a bit of a clothes horse. She does sew her own clothes and can cook though she doesn't like domestic duties preferring to marry the richest monster in the world.
Ad blocker interference detected!
Wikia is a free-to-use site that makes money from advertising. We have a modified experience for viewers using ad blockers

Wikia is not accessible if you've made further modifications. Remove the custom ad blocker rule(s) and the page will load as expected.